SHARPS AND FLATS
A CLASSIC of GAMBLING LITERATURE

It has been said that poker is a game of skill. So, poker players don't think of themselves as gamblers; many fool themselves into thinking that the element of gambling can be eliminated by skillful play. But just because poker is a game of skill that doesn't mean that all poker players play this game as such. Even if that were theoretically possible, and all the players were playing poker equally well, purely as a game of skill, thus totally eliminating the element of chance; the outcome would have to be determined by the turn of a card. So, paradoxically, the game of skill would once again become a game of chance.
Professional gamblers don't have to worry about such paradoxes. In gambling there has always been a sure way to eliminate the element of chance. That is why we have crooked gambling.

A Complete Revelation of



at Games of Chance and Skill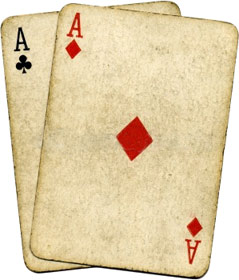 When John Nevil Maskelyne first published Sharps and Flats, in 1894, it became an instant classic. Soon the second edition came out and the book was to become one of the most desirable collectors' items for gambling researchers, scholars and collectors for gambling paraphernalia; especially those with an interest in crooked gambling and cheating with cards.
With the booming popularity of poker, gambling is at an all time high, and so is cheating. Nowadays people are most likely to resort to the internet to research a desired subject. Researchers of crooked gambling will undoubtedly find sites that offer in-depth information on that very subject, such as CARDSHARK Online. However, regardless of the subject that one studies, a serious researcher cannot ignore old sources that have been considered the classics for decades. Sharps and Flats was one of the first in-depth revelations of crooked gambling and cheating with cards and dice. This was at a time when such information was not widely available to the general public.
At that time crooked gambling supply houses (also called "sporting houses") flourished. Those were companies that sold crooked gambling supplies and cheating equipment through mail order catalogs. One of the most infamous crooked gambling suppliers of the time was Will and Finck. It is from the Will and Finck mail order catalog where Maskelyne obtained most of the illustrations for his book; and used them without credit or clearance.
It should be noted that with time passing and the continued growth of the human population the original edition of Sharps and Flats is becoming more and more scarcely available. Even if one is fortunate enough to find one, an early edition is likely to carry a high price tag.
The internet offers a very practical platform to publish Maskelyne's work, once again, in a new electronic format. With the entire text available as a web site the casual reader no longer needs to purchase a physical copy.
When Maskelyne sent his manuscript to a publisher, in 1894, he never dreamt that one day families would gather around the TV set to watch poker tournaments. He never dreamt that one day poker tournaments would be used as high school fund raisers. He also never dreamt that one day his book would be available on a computer monitor through some kind of electronic media that would come to be known as the internet. But if Maskelyne lived to this day he would have undoubtedly want to have a web site about crooked gambling. And since he was the author of one of the most influential works on crooked gambling, he does deserve to have a web site. So, in honor of this great man we bring to you the first online edition of Sharps and Flats.

Also, for further information on playing cards and card games, in general, we recommend visiting Playing Cards Online and Pagat.